Chocolate chunk banana ice cream. Adapted from Perfect Scoop by David Lebovitz. We all scream for Ice Scream. Ripe Banana's and Chocolate what a great flavor combination.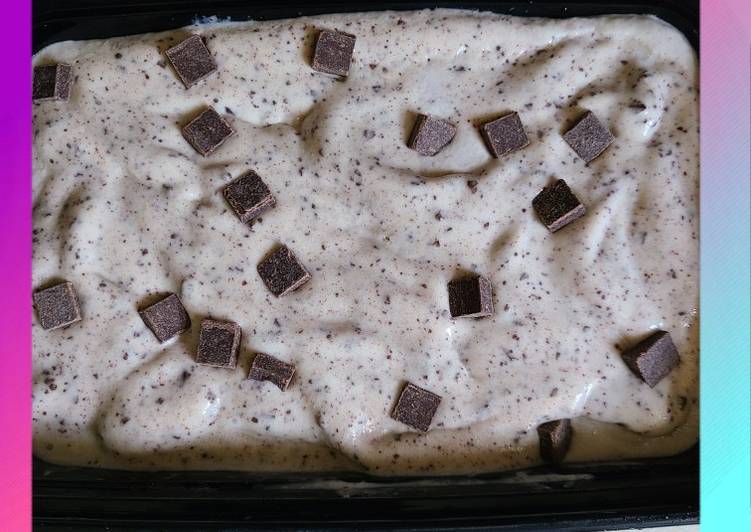 Banana and chocolate ice cream is really just that: frozen bananas, cocoa powder (the chocolate part), and some nut butter. If you guessed BANANA Have you ever tried frozen-banana ice cream? Has it entered your easy dessert repertoire since we first published it a few years It will get smoother but still have chunks of banana in it. You can have Chocolate chunk banana ice cream using 6 ingredients and 4 steps. Here is how you cook it.
Ingredients of Chocolate chunk banana ice cream
It's 2 of large bananas.
It's 1/2 cup of liquid coffee creamer i use vanilla almond creamer.
It's 1/4 cup of almond milk.
Prepare 1 1/2 cups of lite coconut cream.
You need of 2 Tablespoons raw honey.
It's 1/2 cup of dark chocolate chunks plus 1 or 2 Tablespoons separate.
Roasted Banana Chocolate Chunk Ice Cream is full of rich caramel and vanilla flavors with chunks of chocolate throughout. Pour the bananas and gathered syrup into a blender. Add the milk, cream, salt, vanilla paste, and remaining sugar. Chocolate Banana Ice Cream is easy to make, and tastes amazing!
Chocolate chunk banana ice cream step by step
Slice and freeze bananas.
Mix almond milk and coffee creamer and pour into a ice cube tray and freeze.
When bananas and almond milk mixture is frozen add to a blender and pour in coconut cream and honey and blend till smooth and well mixed then add in 1/2 cup chocolate chunks and lightly blend till chunks are slightly broken up and mixed.
Pour mixture into a container and sprinkle on a 1 or 2 Tablespoons of the chocolate chunks add a tight fitting lid and freeze till solid. Softened to eat. Enjoy !.
Made with just a few very simple ingredients, it is creamy, smooth and healthy too! Fold in some dark chocolate chunks, and in just a few minutes you've got healthy banana chocolate ice cream that the whole family will enjoy! It consists of a creamy banana flavoured ice cream base, with plenty of chocolate chunks and pieces of walnut (or pecan). It is a great way of using up a couple of browned bananas if you don't feel like baking banana bread. Although it contains banana however, this is absolutely not a 'nice cream'.